Westbury Alfa Romeo has a large inventory of 2021 Stelvio vehicles available at their Long Island dealership.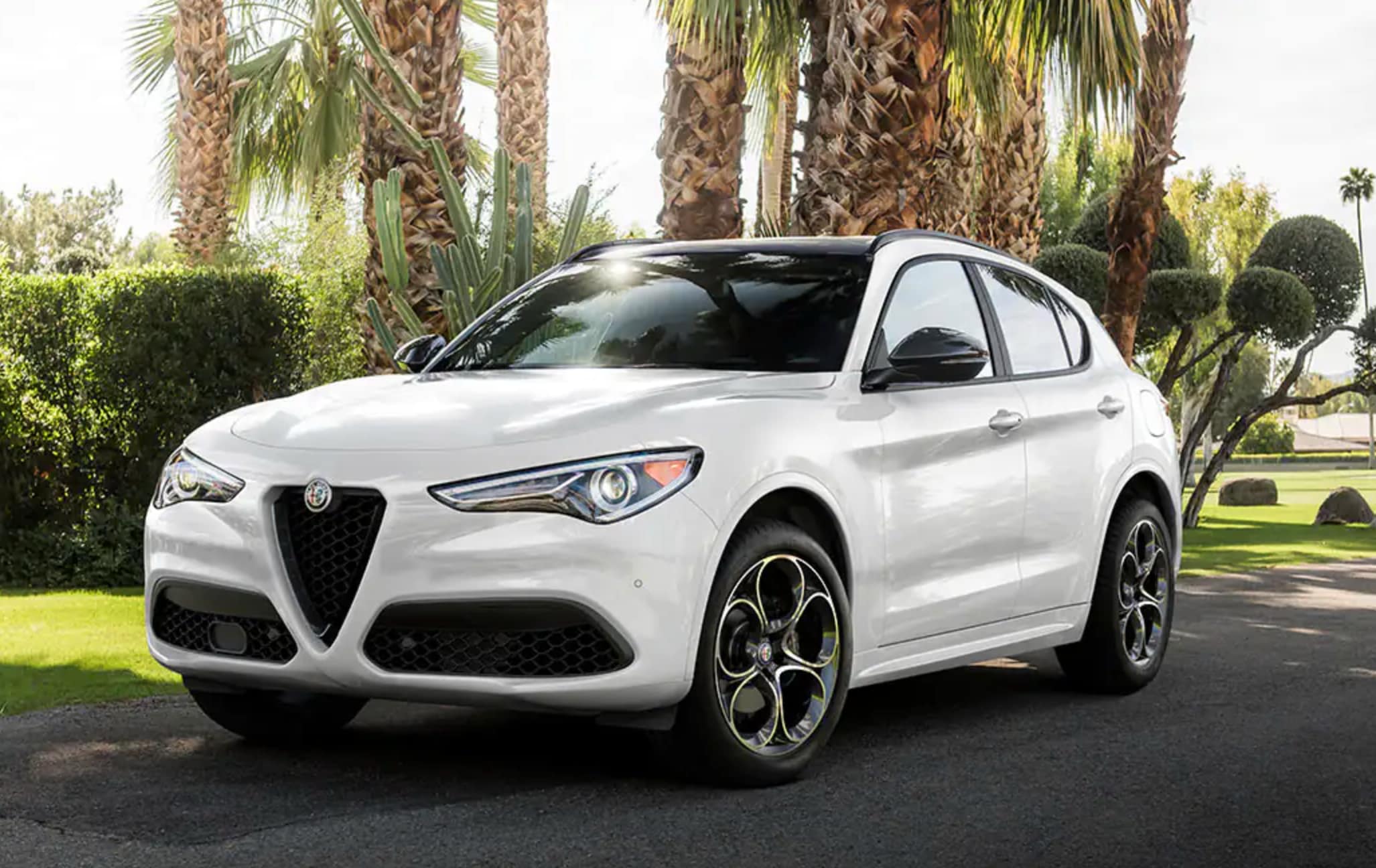 PUSH THE RED LINE 
PULL THE HEARTSTRINGS
The 2021 Stelvio is a testament to Italy's reputation for excellence in performance, design and the combination of both.
  
 Powerful Engines and Performance
The Alfa Romeo Stelvio lineup features only engines of the highest caliber for maximized performance and driving pleasure. Designed and crafted specifically for the newest generation of Alfa Romeo, Stelvio's engines deliver a perfected synchronization between heart, mind and body of the vehicle. Destined to continue over 105 years of performance legacy, Alfa Romeo offers two engine choices that will redefine the standards of automotive thrill.
 Stelvio Quadrifoglio
2.9L All-Aluminum, Direct-Injection Bi-Turbo V6
Power: 505 hp (Best-In Class)
Torque: 443 lb-ft (Best-In Class)
Top Speed: 177 mph (Best-In Class)
 Stelvio and Stelvio Ti
2.0L All-Aluminum, Direct-Injection Turbocharged 4-cylinder
Power: 280 hp (Best-In Class)
Torque: 306 lb-ft (Best-In Class)
Top Speed: 144 mph
 Lightweight Structure and Design
The art of speed as perfected by Alfa Romeo is the act of balancing power vs weight. The Alfa Romeo Stelvio is an embodiment of this principle with its lightweight construction and balanced design. 


Aluminum Body Panels, Suspension Components and Brake System Elements

Standard Class-Exclusive Carbon Fiber Drive Shaft
Near Perfect 50/50 Weight Distribution

  
  
 SUV Capability and Control
The Alfa Romeo Stelvio is engineered to deliver sports car performance without sacrificing SUV capability. 



Chassis Domain Control
Alfa Active Suspension
Integrated Break-By-Wire System
Standard Q4 All-Wheel Drive

Torque Vectoring Differential (Quadrifoglio Only)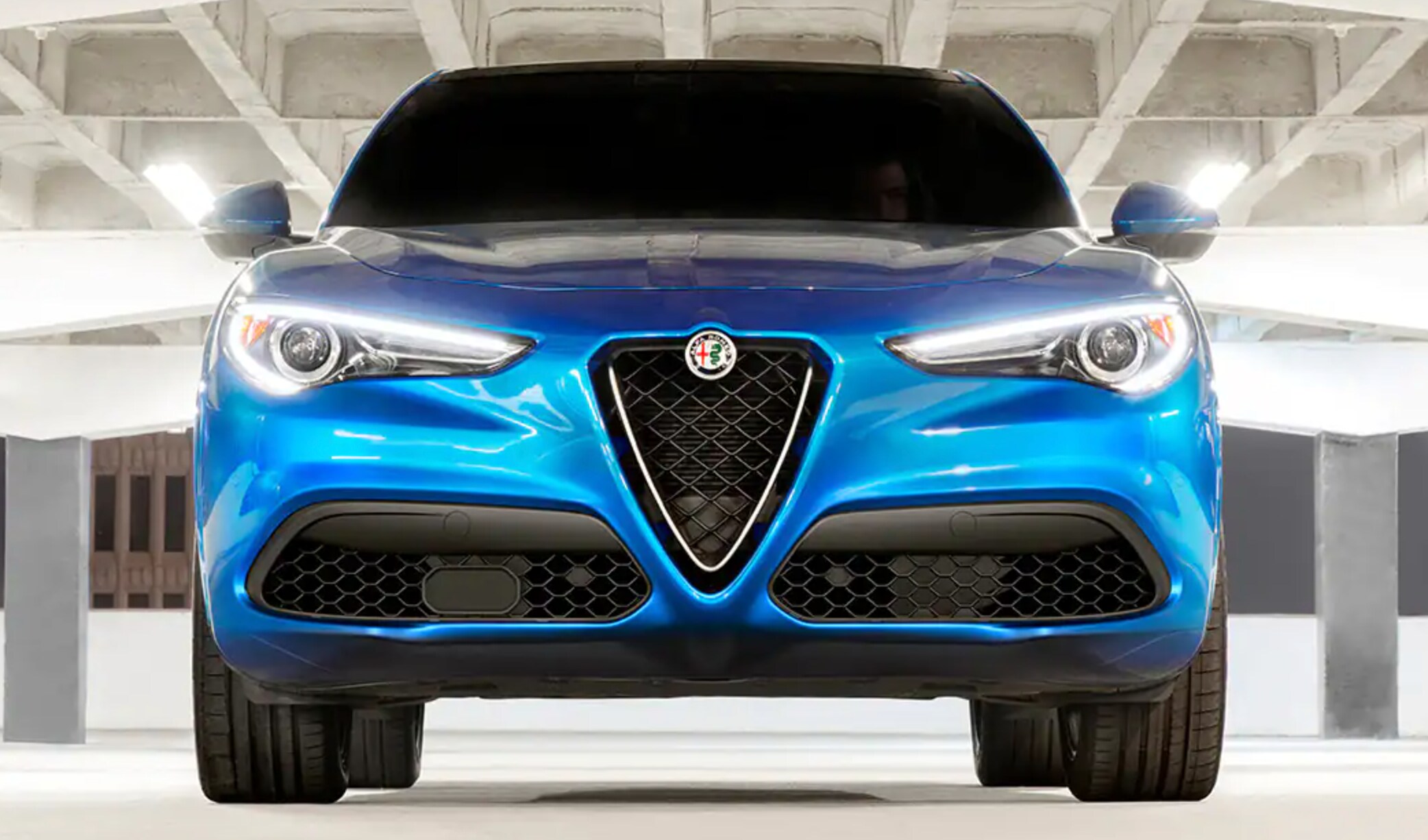 Safety and Security
Integrated Brake System
The Alfa Romeo Stelvio features an innovative electro-mechanical braking system that optimizes braking distances and manages brake pedal pressure to stop you in your tracks, while delivering better overall performance and control.
Standard Back-up Camera with Rear Park Sensors
Thanks to the integrated rear view camera with dynamic grid lines and parking sensors, the driver has better visibility and control during the most difficult maneuvers.
Available Forward Collision Warning Plus

The Alfa Romeo Stelvio monitors the road ahead and helps drivers see if obstacles are quickly approaching through visual and audio alarms, while slowing or stopping the vehicle when a collision appears imminent. Adaptive Cruise Control and Blind Spot Detection are also available.
 
EVERYONE ELSE IS JUST TRYING TO KEEP UP With the most powerful standard engine in its class

Delivering Best-in-Class torque, horsepower, 0-60 mph time and top speed, the Stelvio is so fast that it begs to be experienced.